Basic information
Company name:DeltaMed Co. Ltd
Year of the establishment:2018
Name of representative:Howe Li
Type of business:CRO
Number of employees:40 plus (PV professionals)
Location of headquarters:China (Shanghai Hangzhou Wuhan Beijing Nanjing)
Contact address:
Hiro Pharma Consulting, Hirotsugu Atsumaru
16-12-703, Kikawa-Higashi 2-chome, Yodogawa-ku, Osaka-city, Osaka, 532-0012, Japan
TEL:+81-80-5699-3284
E-Mail:hiro_atsumaru@hiropharmaconsulting.com
URL:https://www.hiropharmaconsulting.com/
Questions for the article
1.What are the advantages of your company and/or your services?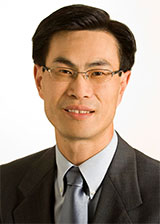 DeltaMed Co.,Ltd. (DeltaMed) is a Contract Research Organization (CRO),headquartered in China with multiple location offices in Shanghai, Hangzhou, Wuhan, Beijing and Nanjing which specializing in providing a full range of international standard services for global biopharmaceuticals and medical device corporation. Our current business covers international standard pharmacovigilance, medical writing and medical monitoring.
DeltaMed aim to be customer-oriented, and provide a good platform to integrating people, processes and technologies to assist clients expand resources, saving costs and complete high-quality services by providing a sound global business operation model, ensuring compliance with regulations and maintaining high quality requirements
Global standard PV service team with the experience of providing full PV services including local & global clinical trial, post-marketing PV service.
2.How competitive you are in the market?
(1).We have professional pharmacovigilance team
Under the leadership of founder Dr.Howe Li, Deltamed has built up a global standard PV function. The whole team has both multi-national pharmaceutical company and local CRO experience. From 2018 till now, Deltamed has been in the leadership position in China Pharmacovigilance industry.
(2).We have comprehensive operation system
Globalized standard working procedures including more than 50 SOPs/WIs and lots of working templates and forms.
Dedicated project management process (including project timeline, safety management plan, routine periodic reports, etc.).
To ensure continuity in the management of the contracted activity
1) For each project, back up staff will be arranged to ensure business continuity.
2) For weekends and other holidays, staffs will br on call to ensure to cover 24/7.
3) DeltaMed different sites in different cities will also back up each other in case either site has emergency or disaster occurred
(3).High quality and lower cost with International standard
Since its establishment in March 2018, DeltaMed has provided professional pharmacovigilance and safety database services for domestic government agency and more than 50 pharmaceutical enterprises with high quality and high demand service standards and won wide praise from customers.
(4).International Multilingual safety database system
DeltaMed provide several multilingual safety databases for clients to choose from to cater to the different clients requirements. (ARISc, Argus, and China local safety database-Bioknow)
(5).Extensive project experience
Since the DeltaMed was founded in March 2018, conducted a total of more than 100 projects, including China Regulatory Authority, domestic and international pharmaceutical companies, involved in the project including clinical trials, global research, post-marketing services, safety database, etc.
(6).Comprehensive personnel training system
We have comprehensive training system to ensure our staffs' expertise and our projects' quality: Career Development Training; Enhanced Occupational Skill Training; Updated QMS System Documents and Updated Regulatory Documents; Project Level Training, etc.
(7).Comprehensive Quality Assurance System
We have comprehensive quality system including more than 50 SOPs/WIs to ensure our standard operation process. We have internal audit periodically, and project audit irregularly to ensure continuity ; Also we have strictly CAPA management to ensure project quality. Since 2018, we have received 9 audits including audits conducted by US qualified auditor and other global audit team.
3.What problems of clients in Japan you can resolve?
Japan clients who have either clinical or post-marketing business in China, we can help them to do local Chinese safety report submission after their processing in headquarter, e.g. E2B R2 to R3 conversion, Chinese translation.
Japan clients who want for full service outsourcing, e.g. they have product marketed in China, we can help to establish the entire post-marketing PV function if they do not have their own PV function; For clinical trials in China, we can help them to operate the entire clinical safety management function including the Chinese safety database and all aspects of PV services.
Below is the list of pharmacovigilance services that we can provide.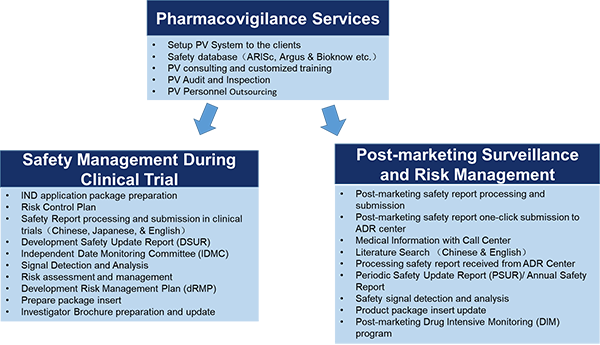 4.What are the short, middle, and long-term objectives of your company?
Deltamed aims to become a globalized full service CRO.
---